There was an interesting story that came out in the last week or so involving current WWE Divas Champion AJ Lee. Following WWE's loop through Texas a week ago, there were reports that Lee specifically told some male fans that wanted pictures that they could have them, but they weren't allowed to touch her.
Lee is the most popular diva in WWE right now. A big part of that is due to the fact that she was part of a major storyline with Daniel Bryan and her husband CM Punk from two years ago. It was a main event storyline that saw her run Raw as the GM of the show and she even got involved with John Cena too. Once she was out of that storyline she became the main heel in the WWE divas division by winning the Divas Title and a nearly one year reign as Divas Champion helped establish her as the top diva in the company.
After she dropped the Divas Title to Paige on the Raw after WrestleMania 30, she took a break for a few months that included marrying CM Punk and going on a honeymoon. She returned as a babyface, which was a change after he heel run. She's been working some house shows since she came back.
This story was shared by WrestleChat.net about the adult male fan that asked AJ for a photo. She said "no touching" and he said that wasn't a problem. It's not like he was going to touch her inappropriately. However, a lot of times when a fan meets a celebrity they might shake that person's hand or put their arm on their shoulder. It's just a nice gesture to do when you pose for a picture. If you've ever met a wrestler you know that most of them have no problem with somebody doing that. However, AJ seemed to have a problem with it. Here's the photo in question.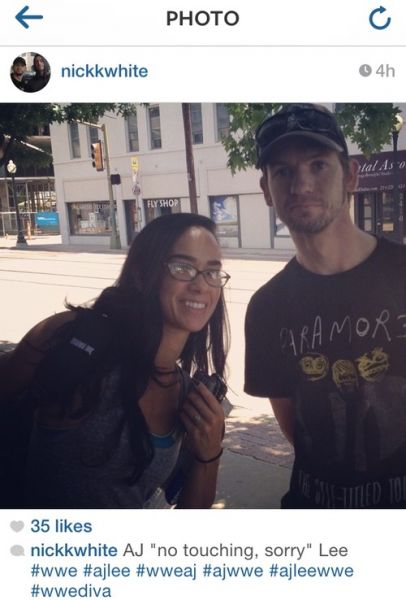 Upon further investigation, the fan said she was nice about it and he completely understood.
The report goes on to note that at WrestleMania Axxess back in April, fans weren't allowed to touch AJ when they posed for a photo with her. She stayed seated behind the table while fans leaned over. Apparently she has felt that way because there was an incident within the last year with somebody touching her in a way that made her uncomfortable. If that's the case then it's certainly understandable why she would have an issue with it.
There have been reports that she has no problem posing with female fans and has gone out of her way to do so with younger girl fans,
---