Kitchener, Ontario – Kocosports Media and Marketing is proud to be a media sponsor on April 8th to 10th, when Kitchener's luxurious Crowne Plaza Hotel, will show off more than its recent $12 million renovations when it becomes the Amateur Boxing Capital of Canada for three days, as Boxing by Syd Vanderpool Promotions presents WBC Canada's Ontario Golden Gloves tournament.
Hosted over three days, the Ontario Golden Gloves tournament promises to be a history-making boxing extravaganza, featuring a premier series of fights that will give fans the opportunity to witness the rising young stars destined to be future of boxing in North America.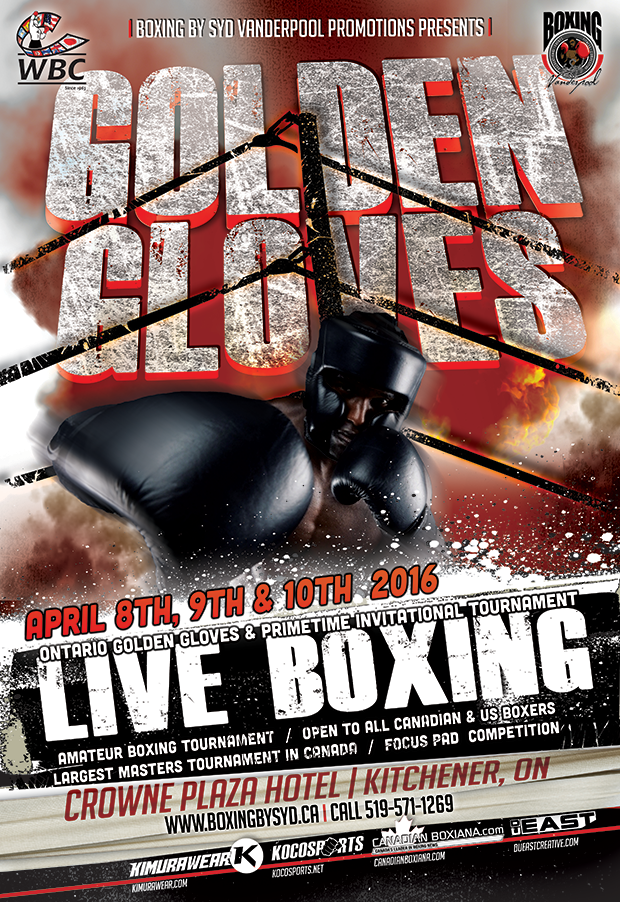 The historical Golden Gloves series has been the origin for of boxing's greatest and most-recognized names: Muhammad Ali, Oscar de la Hoya and Evander Holyfield to name a few.
This year's Golden Gloves matches will feature over 100 boxers from Ontario-based clubs, while the Primetime Prospects Invitational invites U.S. and Canadian boxers aspiring to turn professional to take to the ring in front of trainers, managers and promoters. The invitational is also dedicated to Oakville, Ontario's Michael Desmond "Prime Time" Post, a well-respected champion fighter who passed away in November 2008. Professional boxers looking to enter The Primetime Prospects Invitational must have under four (4) bouts to their record.  Competitors will compete in (3) 2 min round bouts, in this single elimination tournament format.
In addition, this event will be host to the biggest Masters Tournament in Canada featuring boxers over the age of 35. Competitors will compete in (3) 2 min round bouts, in this scintillating single elimination tournament format.
Some of Canada's best coaches will have an opportunity to compete as well in our highly anticipated Focus Pad Challenge sponsored by Kimurawear. This competition will feature boxers and fitness enthusiasts working with their coach in the ring to present a focus pad routine that will be scored on technique, creativity and speed.
Ontario Golden Gloves takes place April 8th to 10th at Crowne Plaza Hotel, Kitchener, Ontario, for ticket information contact syd@boxingbysyd.ca or click here to buy online.
To register as a participant for Ontario Golden Gloves 2016 please fill out the entry form at this link:OGG2016 Application