We (The Internet Infantry) have our mission for 2014 and that is to make pro wrestling fun again. You know WWE and TNA won't put on a good and fun product for us. One of the things that ruins WWE's Raw in 2013 was the lack of Title matches or worse yet the millions and millions of Non-Title matches. So we bringing back an idea we did in our newsletter/magazine (Kids, Those were like blogs on paper) a Kocosports title.
Fantasy Wrestling Game, Internet Wrestling Raw Title and Merry Christmas to the Internet Infantry
In the magazine days we had a title we called the Kocosports TV Title that we let the readers vote on and we kept tracked of it and it was fun, you know nerdy fun. Some of the title holders were Combat Sports Hall of Famer Chris Jericho, Edge, Chris Beniot, Eddie Guerrero, Rhyno and many others. We mentioned it on our podcast and people left comments/votes for Daniel Bryan but we thought we would start fresh and keep track of it here on this post and our Youtube Show.
The Ring Magazine does something like this for boxing why can't we have some fun and do it for Pro Wrestling, maybe in the future have one for TNA or other Combat Sports we cover.
So here are the rules:
1. Be awesome.
2. Vote for who you want to see as champion by commenting here or on our youtube videos. Will try to pick the first title holder of the Kocosports Internet Wrestling Raw Title by the start of 2014.
3. We track his/her progress and every match on Raw or WWE PPV will be a title match. If he/she loses in anyway the wrestler who beats them is the new champion.
4. If our champion and the WWE/World champion become one, we will vote for a new wrestler.
5. We can always tweak it and change the rules as the Internet Infantry see fit.
6. Be awesome.
Making Pro Wrestling Fun Again, Internet Champion & Fantasy Wrestling Draft Recap
History of the Championship:
1. Daniel Bryan
1. Voted on by the Internet Infantry
2. Daniel Bryan def. Luke Harper - WWE Monday Night Raw  – 12/30/13
3. Daniel Bryan def. Erick Rowan - WWE Monday Night Raw  – 12/30/13
4. Daniel Bryan def. Bray Wyatt via Disqualification - WWE Monday Night Raw  – 12/30/13
2. Bray Wyatt
1. Bray Wyatt def. Daniel Bryan – Royal Rumble 1/26/13
2. Bray Wyatt def. Roman Reigns via Disqualification – Raw 2/24/13
3. Bray Wyatt def. Kofi Kingston – Raw 3/17/13
4. Bray Wyatt def. R-Truth – RAW 3/31/13
3. John Cena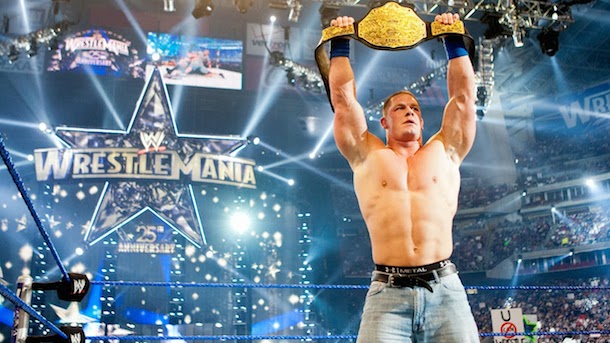 1. John Cena def. Bray Wyatt - WWE WrestleMania XXX – 04/06/14
Click Here To Order How to become a Pro Wrestler!
I AM OVER!!!